SCAM   is a "swindle"
Which   is   defining   as   "   A fraudulent business scheme"; A "SWINDLE" 
Modeling scam is a swindle in the modeling industry, or a fraud against models or aspiring models. A scam generally is a fraudulent business. People are beguiled, mislead, and dupe in a scam. A fraudulent modeling job offer which tries to sell services to models who reply to an advertisement by other agencies is a modeling job scam.
Also: "Deception intentionally practiced with a view of extortion of unlawful or unfair advantage; artifice by which the interest of another is injured; totally a stratagem; deceit; trick. An intentional perversion of truth for the purpose of obtaining money or promise from another. A trap or snare."
Modeling agencies may trick models and make them respond. Models cannot trust whether these agencies use dishonest tactics to sell them not profitably. There are different kinds and stages of modeling scams. Modeling scams need not be absolute scams where nobody benefits from it. In modeling scam, some people get benefits
Just because a company is not a complete scam, usually it doesn't mean that it's not a scam.
. Consumer scams is a practice through which consumers fraudulently facilitate a payment of money disproportionately as to the value of any service actually rendered or any goods provided.  Largely evolve with the technology and they are regulated under Consumer Protection Act.  ?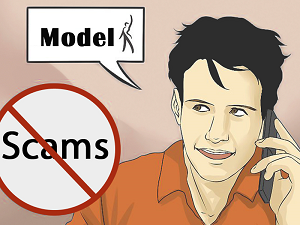 "Hurry: This Opportunity Won't Last Long"
The salesperson or scam artist may try to convince you to sign up for a monthly subscription to a talent service, limited offer on a discounted shoot or a booking agent. It's best to request an in-person meeting before agreeing to pay for an agent or scout.
"Easy Money for Small Work"
At first try earning large money does not come easy. Some models in smaller scale modeling industry can earn $75 to $100 an hour but Alas!  Their work is irregular. the best way is to  Research the company thoroughly. Talk and meet the models who have worked with the company asking about their experiences.
CAUSE:
One talent agency kept the money sent by clients and did not pay the model. Now that is theft. This type of agency shut down very quickly and moves somewhere so that they start up again under a new name in a new state, or completely shuts down.
Landing a modeling gig may sound stunning, but be careful so that you don't fall up for many modeling scams floating around. What you thought was a JOB interview you signed up for online is really a high-pressure sales pitch for modeling or acting classes, shoots or screen tests. The salesperson asks you to pay hundreds or thousands of dollars in exchange for helping you with your modeling line of business.  If someone emails you out of the blue then it is some sort of scam for sure. They ALWAYS tell you it's free at first, and then they get you in there or on the phone and talk you into stuff.

3)Top 10 Reasons Why people Fall for Modeling Scams
The following directory is established on news stories, court documents, BBB records, leadership statements, books, and hundreds of complaint letters. the following reason are the main source of how people fall into scams.
1. Ignorance about modeling industry.
2. Ignorance about modeling scams.
3. Ignorance about modeling company.
4. Lack of research.
5. Failure to shop around.
6. Failure to identify conflict of interest.
7. Quick or emotional decisions.
8. Trusting strangers with money.
9. Not being aggressive.
10. Not trusting your intuition.
To avoid being ripped off, follow these tips:
Ask for everything in writing, even promises made verbally.
Keep copies of important documents.
Stay away from companies that take only cash or money orders.

Ask the agency where previous models and actors have been placed.

Be leery of anyone who asks for an up-front fee before becoming your agent.

Be wary of companies that demand you to use a specific photographer.

Check the BBB's website for information about a company